The Barbara and Joe Haynes Endowed Scholarship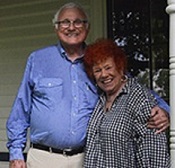 As Lucy Haynes describes, "thinking about your will is a funny thing." When Lucy and her husband Jeff '78 began to work on their estate plans, they thought about how to honor organizations that had been important to their family. For the Haynes family, "MBA (was) at the top of the list" as a philanthropic priority.
To increase the impact of their gift and to honor the Haynes' legacy at MBA, Jeff and Lucy approached Jeff's family to consider establishing an endowed financial aid scholarship named for Jeff's parents, Judge Barbara and Senator Joe Haynes. Jeff's siblings and their spouses - Mandy & Stephen Young ('85) and Julie & Scott Haynes ('82) - and Jeff's parents made commitments to support the endowed scholarship with both cash gifts and planned gifts through their estates.
As a result, the Barbara and Joe Haynes Scholarship will support a talented student whose family cannot afford the full tuition. "To allow students from all parts of the city to attend this fine institution was something that was very important to us," Jeff explains.
The Haynes family's gift will be an enduring legacy for generations of young men.